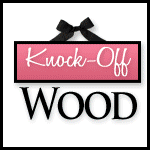 As a person with an interior design background, I take note when I see good design. Pottery Barn is one. However, realistically, being a SAHM the price tag is pretty much a shock. I'd love to fill my home from the dining room to my daughter's room with all their lovely and over priced furniture, but it's just not going to happen... or is it?
A few months ago I came across a blog that I had been searching for for months (but had never exsisted). I was IN LOVE from the beginning when I came across it searching yet again for a similar site hoping one would pop up - I couldn't stop checking the site, showing my hubby, dreaming of all the wonderful items I could now have!! This Blog is known as
Knock Off Wood
. Even more exciting, a woman, a SAHM just like myself, was the one running the show.
In a nut shell, she shows you how to build trademarked furniture of SO MUCH LESS then the big retailers are selling it for.
Here's the bad news- Williams-Sonoma Inc. is cracking down and claiming "copyright infringement." I WANT THIS SITE TO STAY AROUND! She is helping all of us to have good design in our homes without breaking the bank. It's time to support Knock Off Wood!
WE ALL DESERVE GOOD DESIGN
(even if we can't always afford it)